Jump to:
Equipment
History
Locations and Operations
Modeling the SN
Personal Stories
References
If you have material (stories, photos, information, etc.) that you would like to see on this website, please email them to
webmaster@wplives.org
---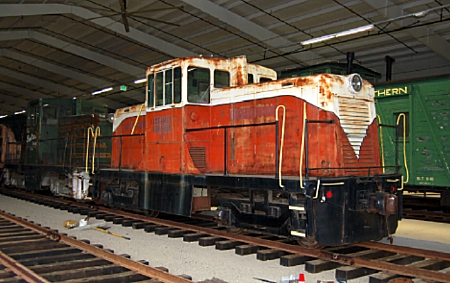 SN 146, the only of the line's 44-ton GE diesels to survive, rests in Carbarn 3
at the Western Railway Museum. The locomotive will eventually be restored to
operating condition using parts salvaged from recently scrapped sister 145.
Garth Groff photo.
SACRAMENTO NORTHERN ONLINE FEATURES
Equipment
History
Locations and Operations
Modeling the SN
Personal Stories
References
Special thanks to the many contributors who have offered corrections and additional information to improve SN Online: Thom Anderson, Josh Apte, Drew Atcheson, Steve Bechtold, Christa Beebout, Henry Bender, Thomas Beutel, Rick Borgwardt, William Brandt, Frank Brehm, William Burg, Robert Burrowes, Sandy Burton, Biff Byrum, Robert Campbell, Robert Codeglia, Mike Collins, Roger Colton, Ron Dieffenbacher, Loren Dunlap, Jim Eager, Mark Effle, David Epling, Dallas Gilbertson, Jim Harrison, Ken Harrison, Ken Harstine, Richard Hendrickson, Peter Hinckley, George Huckabee, Tom Irion, Ed Kaminski, Duane Karam, Roger Kirkpatrick, Don Marenzi, Jimmy Matta, George McKenzie, Jim Middleton, Ted Miles, Jim Moore, Bart Nadeau, Andrew Phillips, Don Olsen, Justin Rowe, Terry Schmidt, Bill Shippen, Andy Sperandeo, Terry Stefani, Kent Stephens, Scott Trostel, Eugene Vicknair, Grant Vogel, Eugene Volz, Robyn Watkins, Roy Weil, Will Whittaker, Guy C. Wilber, Jeffrey Williams, Douglas F. Wilkinson, Brian Witt, Allen Wood, Kyle Williams Wyatt, Ina Young, Richard Young, and Robert Zeman. My thanks to you all, and apologies to anyone whose name I have forgotten to include here.

The facts presented in SN Online are in the public domain, or were gleaned from published sources cited on our bibliography page under fair use doctrines. However, the design of these pages and presentation of this material is Copyright 2012-2016 by The Feather River Rail Society.