NORTHERN ELECTRIC'S STONE DEPOTS
By Garth G. Groff
With additions by Ina Young and Henry E. Bender, Jr.
Updated and corrected September 6, 2011
In 1906, A. D. Schindler was hired as the Northern Electric Railway's general manager. Schindler came from the Pacific Electric Railway in Southern California, and for a few years, he and the men he brought with him introduced a number of PE-inspired innovations to the NE.

The most famous of Schindler's changes was the pneumatic trolley-pole base, a PE standard. Niles combines 100 and 101 used this device, and it may have been applied to other cars as well. Schindler was also responsible for locomotives 1000 and 1001, two steel steeple cab freight motors that followed the design of PE's very successful 1600. These two NE motors also used pneumatic trolley poles bases. Schindler lost his job in 1914 when the NE entered bankruptcy, and most of his ideas were soon erased from the line.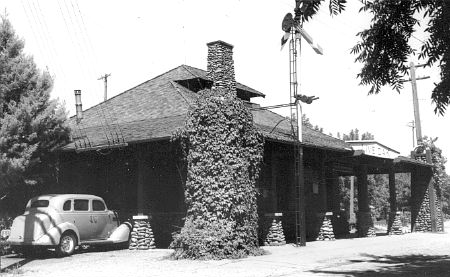 The depot at Live Oak was still a clean and well maintained building, even near the
end of passenger service in 1940. The ivy climbing the obelisk added a homey touch.
W. C. Whittaker photo; Garth G. Groff collection.
Perhaps Schindler's most enduring contribution to the NE was a group of four attractive stone and framed stucco depots built during his administration. It has been claimed these buildings were inspired by the PE's Glendale station in Southern California. The basic design was a "craftsman" bungalow, a popular style in early 20th century California. Cobblestones were used up to the window level, with stucco above. The roof was extended out from the building to provide wide verandas which gave some relief from the scorching California sun. The trackside corners were protected by unusual freestanding cobblestone obelisks reminiscent of the bell towers at early California missions. It is doubtful if they would have saved the building from a run-away train, but they did add a nice decorative touch.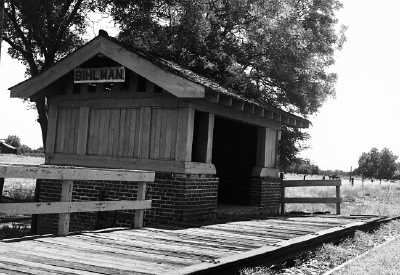 Bihlman, the first flag stop south of Live Oak, followed Schindler's design, but in
brick instead of stone. Note the covered third rail by the platform edge.
W. C. Whittaker photo; Garth G. Groff collection.
These handsome stations were located on the mainline at Live Oak and East Nicolaus, both 50 by 54 feet. A similar station measuring 53 by 47 feet was built at Thermalito on the Oroville Branch, and another was at Meridian on the Colusa Branch. They were built between 1910 and 1913. A matching design was used for the 12 by 18-foot flag stops at Robla, Stope, and possibly other locations as well. A similar design in brick was used at Del Paso, Bihlman, Chandon, Ramada, and Cosecha.

The station at Meridian was unusual for its outside elevator. The depot was located at ground level, while the track was on a fill approaching a drawbridge over the Sacramento River. The elevator saved passengers from having to schlep their baggage up and down a long stairway between the station and the trains. It also aided the agent with loading freight, express and mail.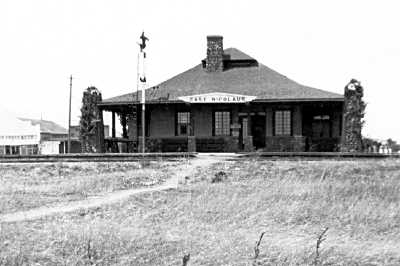 The East Nicolaus depot was also well kept in the 1930s, though with only
John Wise's general store for company, it looked like a very lonely place.
A grass fire swept through the area about 1960, destroying both buildings.
Ina Young collection.
When passenger service ended, all of the large stations remained in use as freight depots for a number of years. As traffic shifted away from the Sacramento Northern, local agents were no longer needed, and one-by-one the depots were closed. Their size and type of construction made them impossible to move off railroad property. Additionally, the cobblestones' smooth surfaces didn't hold mortar well. The Thermalito and Live Oak depots became unsafe and were torn down rather than converted to other uses. East Nicolaus was lost to a fire in 1960.

Only the Meridian depot still stands today. In 1987 it was discovered by Mark and Pamela Slattery, who immediately fell in love with the dilapidated building and bought it for their home. With the assistance of a professional architect, the depot was rebuilt into a charming house, retaining or restoring as much as possible of A. D. Schindler's original design.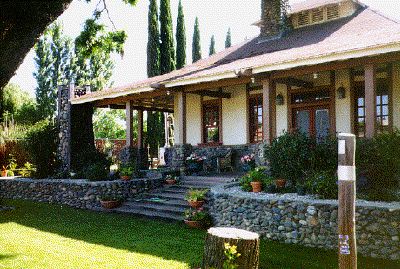 The station at Meridian is the only one of Schindler's depots left today.
It has been remodeled as a private home, but great care was taken to retain as much
of the building's original design as possible.
Garth G. Groff photo.
Special thanks to Mrs. Ina Young for her recollections and the East Nicolaus photo.