BIRNEY STREETCARS ON THE SACRAMENTO NORTHERN
By Garth G. Groff
With additional research by Peter Hinckley and P. Allen Copeland
Updated and corrected June 25, 2011
Many California street railways operated Birney Safety Cars during the 1920s. These little streetcars became a hallmark of the Sacramento Northern, and were the last such cars to run in the Golden State.

When the Chico Electric Railway began operation in 1905, their roster consisted of four wooden double-truck St. Louis streetcars. When this line became part of the Northern Electric Railway, more cars were needed for lines in Marysville-Yuba City and Sacramento. To cover the expanded service, three new wooden double-truck cars were added in 1906, and a fourth in 1911. Four used wooden single-truck streetcars from the United Railroads of San Francisco were added to the fleet in 1907. This gave the NE barely enough cars to cover their schedules in the three cities. The car situation became a problem after 1914 when the four single-truck cars were sold or scrapped, leaving the NE with just eight streetcars, some of which were needed for branch service on the Fairfield-Vacaville and North Sacramento lines. There wasn't much the NE could do about the shortage at that time, since the railroad was bankrupt. It wasn't until the line was reorganized as the Sacramento Northern Railroad in 1918 that the streetcar situation received attention.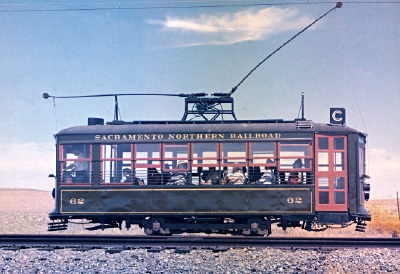 SN 62, preserved at the Western Railway Museum, was restored to
SN's original paint scheme. The 85-year old car sees frequent operation.
Wilbur C. Whittaker photo; Garth G. Groff collection.
At that time the latest trend in streetcar design was for one-man, light-weight steel cars. A self-service fare box by the entrance eliminated the need for a conductor, at a considerable saving in labor costs. While not the only cars of this type, the Birney design became the most widely built, though they could hardly be called "most popular". Thanks to their single four-wheel trucks, the little cars were rough riding, jarring passengers at every rail joint and track irregularity. The cars also tended to "hunt", waddling from left to right, especially when the track gauge was a bit wide. Most Birney cars had wicker seats in wooden frames, which offered riders little cushioning against the jolts. Birneys could carry only 34 seated passengers, a fairly low capacity, and many street railways soon found that they needed larger (and more comfortable) cars. Few four-wheel cars of any type were built after the early 1920s, and many lines soon got rid of their Birney cars in favor of double-truck lightweights.

The SNRR ordered two new Birney Safety Cars from American Car Company of St. Louis. Numbers 60 and 61 were completed on order 1143 in late September 1918 and delivered in early October. The 10-ton cars rode on Brill 78M trucks equipped with roller bearings, and were powered by General Electric 68 motors. They arrived in Pullman green paint with gold lettering, gold pin striping, and red doors and window sashes. The roofs were originally moss green, matching the color used on the trucks of SNRR interurban cars. The SNRR was apparently pleased with the little cars, even if passengers weren't, since the railroad went on to buy nine more.

After just three years of service, the San Diego Electric Railway Company put some of its Birney cars up for sale in 1923. The SNRR was a willing buyer and seven cars were purchased in two lots. SDERY 301, 304, 309 and 311 became SNRR 62-65 in September 1923. They were followed by SDERY 306-308 in May 1925, which became SNRR 66-68. The San Diego cars were identical to the SNRR's two earlier cars, except for GE 264 motors, plain bearings, and a slightly different anti-climber. The new cars allowed the SNRR to rebuild five of their wooden double-truck streetcars into Elverta Scoot suburban cars in 1924 and 1925.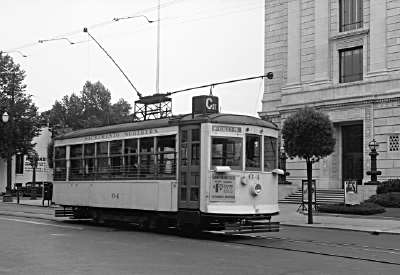 Birney 64 rolls past the post office at 8th and "I" Streets in this 1940
view. Sacramento cars carried large route indicators on their roofs.
These were blanked out when Sacramento cars served other cities.
Wilbur C. Whittaker photo; Garth G. Groff collection.
At some unknown date, the SN Birney cars were painted white with blue-gray doors and window sashes. The roofs were black, though this faded to a charcoal gray. Lettering was the same blue-gray as the sashes. There is some scant evidence that some San Diego cars might never have worn the green paint scheme. When 62 was stripped for repainting by the Bay Area Electric Railway Association in 1973, no green paint layers were found. Whether the San Diego cars operated for a time in their original colors on the SNRR, or were repainted into the SN's Pullman green scheme is another SN mystery. During its last few months of service in 1947, Number 60 was painted bright yellow, except for a dark blue chevron extending from below the end windows down to a point above the headlight. It was the only car to wear this scheme.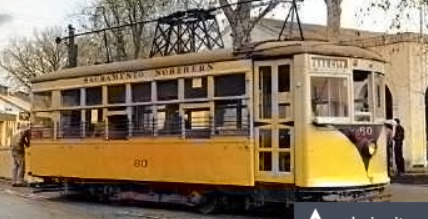 Colorized version of a B&W photo to approximate what 60 looked like.
(Colorization done by Waldo Lahr, original photo by Wilbur C. Whittaker photo;
Garth G. Groff collection)
Two additional Birneys, 69 and 70, were purchased by the Sacramento Northern Railway in February 1936 from the San Jose Railroads (their 137 and 141). These two cars were a real bargain, costing only $200 each, plus another $100 each to repaint and ready them for service. They are known to have been at the Key System shops in Emeryville during March 1936, and the Key probably painted and prepped the cars for the SN. They were somewhat different from the the SN's other Birneys, having been built by St. Louis Car Company. The new cars rode on a St. Louis truck, powered by Westinghouse 508A motors. The St. Louis cars also had very long anti-climbers, giving them the nickname "Ubangi lip cars". They still carried the same 34 passengers, and were just as uncomfortable as their sisters. When SNRR 69 and 70 entered service, the line was able to finally retire wooden double-truck streetcars 50 and 51.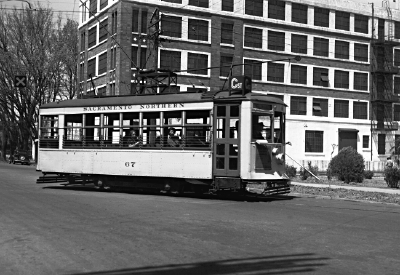 Nearing the end of its run, SN 67 turns off 19th Street onto "C" Street
in 1938. Behind the streetcar is the California Almond factory.
Wilbur C. Whittaker photo; Garth G. Groff collection.
In the late 1930s, Sacramento had four cars in operation on weekdays, with only two on Sundays and holidays, plus one spare. Marysville and Chico each required two cars on weekdays, just one on weekends and holidays, and a spare for each city.

Streetcars tended to move around quite a bit on the SN as needs changed or the cars rotated through the Mulberry shops, but a few cars became fixtures in particular cities. If photos are to believed, 60 was almost always assigned to Chico. Other cars known to have run in Chico include 61, 62, 66, 68 and 69. No Birney cars were assigned to Marysville-Yuba City until the 1930s, this service being covered by 50 and 51. Numbers 61-63, 68 and 70 are all known to have operated in Marysville-Yuba City service after the wooden cars were retired in 1936, and some Birneys may have seen service there earlier. Sacramento saw the greatest variety, with 62-68 assigned there at various times. Cars 69 and 70 were in Sacramento during the war years.

Light repairs for Sacramento cars were usually done at the 17th and D Street yard, and for Marysville-Yuba City cars in a small carbarn near the Yuba City station. Chico cars were repaired in the Mulberry Shops. Major repairs for all cars were made only at Mulberry, and the Birneys ran under their own power between other cities and Chico. Special third rail shoes were applied to their trucks for the long trip along the main line.

None of the SN Birney cars had heaters, and there were many complaints from passengers. After intercity service ended, electric heaters were stripped from some of the doomed interurbans and installed in the Birney cars. This project was completed by 1942.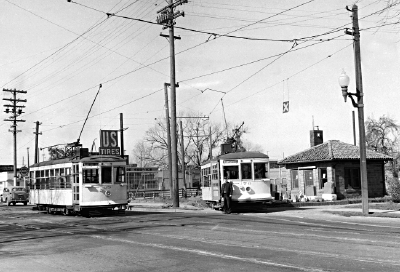 The date is February 15, 1942, the last day of Marysville-Yuba City
streetcar service. Birneys 68 and 70, seen here in Marysville near
the Western Pacific underpass, closed out operations that day.
Bert Ward photo; Garth G. Groff collection, via the Wilbur C. Whittaker collection.
Marysville-Yuba City streetcar service ended February 15, 1942 after years of losses. The abandonment was one of the few allowed in California during the war years. Number 70 made the last run, and then it and 68 were immediately reassigned to Sacramento.

The SN continued to operate streetcar lines in Sacramento until May 14, 1944 when the routes were sold to the Sacramento City Lines, a company controlled by the infamous National City Lines. All but one of the SN routes were dropped, and the surviving line was combined with a former Central California Traction Co. route into the 15 line to Colonial Heights. Route 15 was operated almost exclusively with ex-CCT double-truck light-weight cars, whose size and comfort was much appreciated by the passengers. The sale included Birneys 63-65, 67, 68 and 70, but they saw little service except as occasional spares throughout the city. Car 70 was converted to a wire greasing car. The ex-SN cars were never repainted, except to remove the Sacramento Northern name from their letterboards. Not all cars were unlettered; 70 was still wearing faded Sacramento Northern lettering when retired. As soon as World War II ended and buses were available in early 1946, the 15 line was abandoned.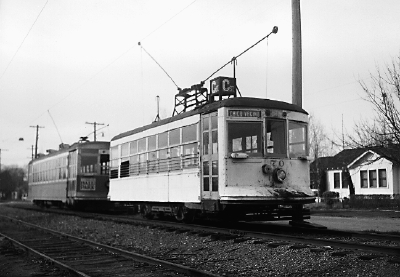 Prior to closure in 1946, Sacramento City Lines hosted an
excursion to Colonial Heights using ex-SN 70 and a former CCT car.
The Birney's roller sign says "Chico Vecino", a souvenir of its Chico days.
Kenneth C. Jenkins photo; Garth G. Groff collection.
In CARS OF SACRAMENTO NORTHERN, author Ira Swett claims that cars 63-68 were scrapped in Chico during 1947. This was not so. Five cars sold to the Sacramento City Lines were for sale as sheds in Sacramento during June 1946. The detrucked cars sat on blocks at the 17th & D street yard. Why they were back on SN property, and how many were actually sold for other uses is not known. Car 70 was scrapped by Sacramento City Lines in March 1946.

Birney 69, now the only St. Louis car left, was retired in mid-1946 by the SN at Chico. The body was sold for $150.

SN's final streetcar operation was at Chico, where service continued until December 15, 1947. Number 62 had the sad task of making the last run. Numbers 60, 61 and 66 were still on the property at that time, so the latter car cannot have been scrapped in 1946 as claimed by Swett. Number 66's running gear was removed, probably early in 1948, and the body was sold as a dwelling in Chico. In 2000 it was still occupied, though the city had moved to condemn the structure as unfit for habitation. Number 60 and 61 were scrapped at Chico in 1948, with the bodies also sold off as structures. The Bay Area Electric Railway Association scraped together $250 to buy Number 62, the only SN Birney to survive intact.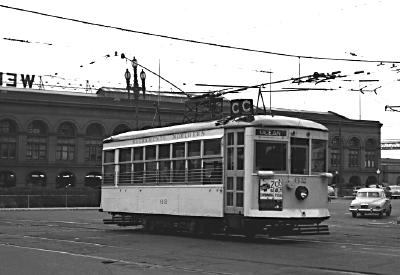 Birney 62 was found in a most unlikely location, in front of San
Francisco's famous Ferry Building on January 1, 1951. The car
was run by the BAERA on an excursion over several MUNI lines.
Wilbur C. Whittaker photo; Garth G. Groff collection.
BAERA moved 62 to Oakland shortly after purchase, and the car was stored at various times outside the Key System shops in Emeryville and in the old OA&E carbarn at 40th and Shafter. The little car ran on several excursions over Key System track. In late 1950, it was trucked to San Francisco where the car was used on a January 1, 1951 excursion over several Municipal Railway lines. This proved something of a disaster, since the Muni used shallow girder rail that caused the car to run on its flanges. The car's cast iron wheels were badly chipped, and when the car returned to Oakland, the SN refused to allow it to run on their lines again. For some time the car sat outside the Key System shops in Emeryville. When the SN's electric operation in Oakland ended February 28, 1957, the Birney was hauled out on the last train.

The little car then spent several years in storage at Marysville near the Western Pacific station. It was finally moved to the BAERA's new museum at Rio Vista Junction in August 1964. The car returned to San Francisco during the 1980s for the Muni's Historic Trolley Festival, adding a few more chips to its flanges and also breaking a pinion tooth which required extensive repairs. Today 62 is again in regular operation at the Western Railway Museum, currently wearing the SNRR green paint scheme. Despite the Birney's very rough ride, it is one of the favorite cars at the museum.