"Celebrating the Western Pacific Family"
May 12 - 14, 2022 - Thursday, Friday, Saturday
PLUS special Sunday May 15 events at the
Western Pacific Railroad Museum - Portola

---
Photos from convention and related events:
---
Presentations from convention:
---
2022 WP Historic Convention Timetable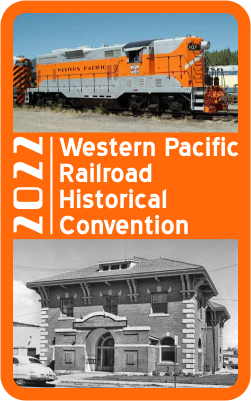 HERE!

Featuring…
Historic and Modeling Clinics
Archive and Photo Exhibits
Rare Films from the Virgil Staff Collection
Fundraising Prize Raffle
Vendors and Special Guests
Model Railroad Tours
Saturday Night Banquet Speaker: Former WP trainman Tom Hervey
Saturday Night Banquet Speaker: Former WP trainman Tom Hervey
Our Saturday Night Banquet Speaker, Tom Hervey, plans to share his first week on the WP and the B & L Local. He will tell us about the Reno Local when it originated out of Portola and then some experiences leading up to the UP merger and aiding of the City of Portola in helping to secure the property for the FRRS in their early years.

Thomas K. Hervey began his railroad career in Los Angeles in 1964 when he hired on as a switchman for the Southern Pacific. In 1971, he came to Northern California and hired out for the Western Pacific as a conductor and trainman working out of Portola. He would remain through the merger and retire from the Union Pacific in 2007.

While living in Portola, he was elected to the city council as a write-in candidate in 1978, becoming Mayor Pro Tem in 1979. Following the city election in 1980, he became Mayor and served in that position until 1984. Mr. Hervey was Mayor when the FRRS was formed and he signed the initial lease for the Portola Diesel Facility on behalf of the city of Portola, allowing the creation of the Portola (now Western Pacific) Railroad Museum. The city held the lease on the property in those first few years until the FRRS had established itself.

From 2007 to 2017, he worked for the California PUC Rail Operations and Safety Branch, retiring as an Associate Transportation Operations Supervisor. From 1965 until 1967 he also served in the US Army and performed a tour of duty in South Vietnam.

Mr. Hervey is a long time member and supporter of the FRRS and we are honored that he has agreed to be our special guest speaker for the 2022 Convention.

Presentations include (as of 4/4/22):
Branch Lines of Plumas County/Western Pacific's Enduring Reno Branch
Feather River Express 2009
Freight Cars on the WP
Guided Tour of H/A Web pages at WPLives.org
Time Flies & the Feather Flows
Train Wrecks and Derailments on the Western Pacific
UP 6900 Class Centennials on the WP
Western Pacific Maintenance of Way (modeling) third in a series
and more!
Convention Schedule of Events HERE!

Special events at the WPRM on Sunday, information HERE!
---
Downloadable forms:

---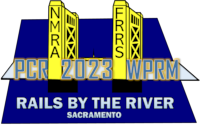 It is never too early to start to plan ahead…
The 2023 Western Pacific Historical convention is going to be a joint event with Pacific Coast Region NMRA in Sacramento, at the Courtyard by Marriott Sacramento Cal Expo on April 26 – April 30, 2023. More information is available HERE!


---
FRRS members and non-members are welcomed!
We hope to see you there!
Note for non-members who want to join the FRRS: Membership discounts ONLY valid when combined with Convention registration, please enter "NEW" for membership number when registering for the convention and pay the member fare.


Downloadable Convention Flier and mail-in registration form available: HERE! (updated 2/18/22)

Online Registration is closed, please register at the door.