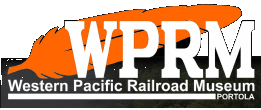 Sunday 5-15-2022 in Portola
Photos by Kerry Cochran, Steve Miller, Chris Skow

The 2022 WP Convention was held May 12-14, 2022 in Reno, Nevada, and ended with an exclusive Museum Day in Portola on Sunday, May 15, for those attending the WP Convention. Convention attendees were given a private caboose train ride and the first public opportunity to see restored steam locomotive Western Pacific 0-6-0 165 in action. Guided tours of the collection were offered. In addition, convention attendees were able to board a shuttle bus that took them to the home of FRRS member Chris Skow, where they were able to experience his spectacular garden railway and tour his collection of Western Pacific artifacts.

There is a separate gallery dedicated to the WP 165 operations HERE!

Click on an image to open the slide show,
or use the links to photographs below for large images of the
Sunday 5-15-2022 in Portola gallery.
Page last updated: Mon May 23 14:34:40 PDT 2022

---
View mobile friendly version of this web page HERE.
---
Links to photographs in slide show:

Image number 1 -- Caboose Train for Convention Attendees - Photo by Kerry Cochran
Image number 2 -- Caboose train at WPRM arrives at photo line - Photo by Steve Miller
Image number 3 -- Photo Line-Up Milward switch/ RR Crossing - Photo by Kerry Cochran
Image number 4 -- Convention Attendees entering museum after photo run by - Photo by Kerry Cochran
Image number 5 -- Museum Store, Dave Dodds at counter, Eric McKay in line and Ann Cary working the store - Photo by Kerry Cochran
Image number 6 -- FRRS Founder Norm Holmes ready to run WP 165 - Photo by Kerry Cochran
Image number 7 -- Eugene Vicknair leads tour of WPRM - Photo by Kerry Cochran
Image number 8 -- Marty Banks at Chris Skow's Garden Railroad - Photo by Kerry Cochran
Image number 9 -- Chris Skow's Garden RR - Photo by Kerry Cochran
Image number 10 -- Chris Skow's Garden RR Welcome Sign - Photo by Kerry Cochran
Image number 11 -- Skow's Garden Railroad - Photo by Chris Skow
Image number 12 -- Chris Skow's Museum - Photo by Chris Skow
Image number 13 -- Chris Skow's Museum display case - Photo by Chris Skow
Image number 14 -- Chris Skow's Garden railroad - Photo by Steve Miller
Image number 15 -- Chris Skow's Garden railroad - Photo by Steve Miller
Image number 16 -- Chris Skow's Garden railroad - Photo by Steve Miller


Page last updated: Mon May 23 14:34:40 PDT 2022