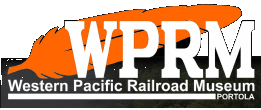 NCO Mixer 5-12-2022
Photos by Kerry Cochran, Steve Miller, Eugene Vicknair

2022 Western Pacific Historical Convention - A social mixer was held at the WP/NCO Depot Brewery for convention attendees.

From their website: "The three story brick building which houses all of The Depot Craft Brewery & Distillery's operations was built in 1910 to serve as the headquarters for the Nevada-California-Oregon Railway. Originating in Reno, the railway served many locals along the 238 mile stretch to Lakeview, OR. Unlike many of Nevada's railway systems, the NCO catered primarily to ranchers & farmers with almost all of the cargo consisting of livestock, wool, hay, and grain."
Click on an image to open the slide show,
or use the links to photographs below for large images of the
NCO Mixer 5-12-2022 gallery.
Page last updated: Sun May 29 11:37:52 PDT 2022

---
View mobile friendly version of this web page HERE.
---
Links to photographs in slide show:

Image number 1 -- Setting up Display at NCO Depot for Mixer - Photo by Kerry Cochran
Image number 2 -- NCO Depot 2nd Floor meeting room - Photo by Kerry Cochran
Image number 3 -- Appetizer for Mixer - Photo by Kerry Cochran
Image number 4 -- Gathering at Depot Brewery - Photo by Eugene Vicknair
Image number 5 -- Convention Attendees enjoying mixer foreground Eugene Vicknair/Eric McKay background Lee House/Jim Atkins far end of table Dave Dodds and others - Photo by Kerry Cochran
Image number 6 -- Lee House/Jim Atkins far end of table Dave Dodds and others - Photo by Kerry Cochran
Image number 7 -- Eric McKay/Fred Elenbaas and others - Photo by Kerry Cochran
Image number 8 -- NCO Roundhouse, Yards and Shops Map - Photo by Kerry Cochran
Image number 9 -- NCO Depot Tour - Photo by Kerry Cochran
Image number 10 -- Original NCO Safe - Photo by Kerry Cochran
Image number 11 -- NCO Depot Front (Tour) - Photo by Kerry Cochran
Image number 12 -- Convention Attendees on NCO Depot Tour - Photo by Kerry Cochran
Image number 13 -- Convention Attendees on NCO Depot Tour - Photo by Kerry Cochran
Image number 14 -- Convention Attendees on NCO Depot Tour - Photo by Kerry Cochran
Image number 15 -- NCO Depot Brewery - Photo by Kerry Cochran
Image number 16 -- Keg at Depot Brewery - Photo by Eugene Vicknair
Image number 17 -- Touring behind the scenes at The Depot - Photo by Steve Miller
Image number 18 -- NCO Depot Brewery - Photo by Kerry Cochran
Image number 19 -- NCO Depot Drawing - Photo by Kerry Cochran
Image number 20 -- News article on NCO Depot - Photo by Kerry Cochran


Page last updated: Sun May 29 11:37:52 PDT 2022