In 1939, the Electro-Motive Corporation completed a revolutionary railroad locomotive powered by a diesel prime mover and using an electric transmission. While this combination had been used for years in some switching and passenger locomotives, EMC was determined that their new locomotive, the FT, would replace steam locomotives in freight service. Western Pacific was an eager early buyer of this model and later its improved successors. F3 and later FP7 models were acquired for the California Zephyr, while the F7 model helped retire many of the railroad's steam engines.

WP 921-D was the last unit delivered in WP's first order for the F7 model. These carbody type locomotives served until newer models with higher horsepower and better visibility rendered them obsolete. The WP, however, was slow to retire them, the railroad always being too short of money to completely replace those older locomotives which could still earn a profit. By 1977, when most railroads had long since replaced their full carbody style locomotives, the WP still rostered four. That year, two of the survivors, including the 921-D, were sent to Morrison-Knudsen in Boise, ID for rebuilding, while one of the others was rebuilt by WP in Stockton. One of the locomotives, WP 913, now in the California State Railroad Museum in Sacramento, was repainted into a new version of the classic orange and silver Zephyr paint, while the other three, including WP 921-D and 917-D, both here in Portola, were given WP's then standard green and orange colors. For the next three years, the newly christened "Fab 4" continued to earn their keep while generating great publicity for the WP. After the Union Pacific merger, the 921-D was retired and donated to the FRRS. Sister 917-D came to the museum in 2005 as part of a trade with another museum.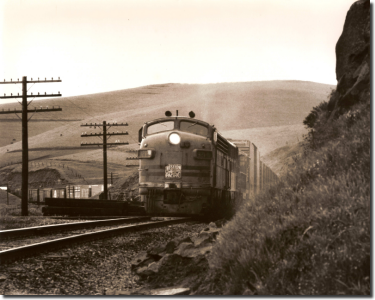 Western Pacific 921-D working on Altamont Pass.
-->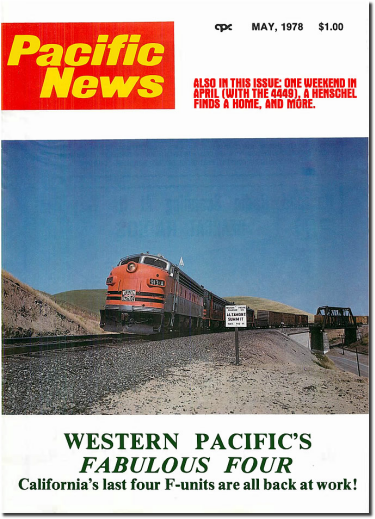 TrainLife.com Western Pacific's "Fab-4" F7's were the subject of several articles in the rail press. an article by Ken Meeker on the WP's venerable fleet of F7's on the "San Jose Turn" in the May 1978 issue of "Pacific Rail News", courtesy of trainlife.com.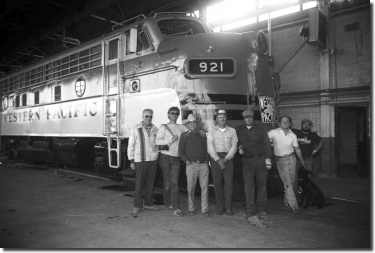 Western Pacific 921-D poses shortly after donation with several charter members of the FRRS at the new Portola Railroad Museum in 1984.

Western Pacific 921-D, preserved by the Feather River Rail Society at the Western Pacific Railroad Museum in Portola, California, in service on the Western Pacific with locomotives 3002, 3360, & 913 on a general manifest train seen here passing a stopped westbound train on 3rd Street in Oakland California in the early 1980's. Video by Larry Goss, used by FRRS with permission.