The 1930's had been hard times for the Western Pacific. In 1935, the railroad filed its second bankruptcy and sought to tighten its belt even further. New steam locomotives had been arriving to replace the outmoded models built when the railroad was new, but the company was still looking for ways to make the line more efficient. In 1939, a small locomotive arrived that would change the railroad forever.

The Electro-Motive Corporation, a subsidiary of General Motors that would become the Electro-Motive Division (EMD), had begun making a line of diesel-electric switching locomotives. To promote this new technology, they built several demonstrators and offered them to various railroads for testing. The WP accepted and on September 26, 1939, plain black SW1 906 began a 30 day trial. It was put through a variety of tests, including switching the yards at Elko and Stockton and working the industrial trackage in San Francisco. The results were outstanding: the little engine could out pull one of the road's 0-6-0 steam switchers and it always seemed ready to go. In less than a month the WP was convinced, and by mid-October they requested EMC to build two more units.

The 906 became WP 501, the first diesel locomotive owned by the railroad. The three SW1s became regulars in the yards at San Francisco, Oakland and Sacramento and proved that steam power was the way of the past. By 1953, steam engines were gone from the WP, the first large western railroad to completely dieselize.

WP 501 and her sisters, the engines that started it all, served the WP for over 25 years. In December, 1965, having been replaced by larger, more modern units, the 501 and 502 found a second life on the rails of WP subsidiary Sacramento Northern. Renumbered SN 401, this little engine would finally be set aside in the late 1970's and spent several years on the Stockton deadline. However, she was resurrected in 1981 when WP customer Corn Products Corporation needed a locomotive for its Stockton facility. Rebuilt by the WP, she worked shuffling grain hoppers in south Stockton. In 1987, CPC graciously donated the 501 and she has now been restored to her original WP black and white colors, preserved as the most prominent symbol of the Western Pacific's embrace of diesel power.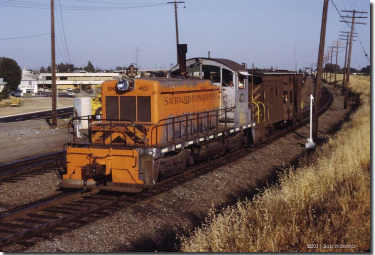 Western Pacific #501 working in her 2nd career as Sacramento Northern #401 in Sacramento, California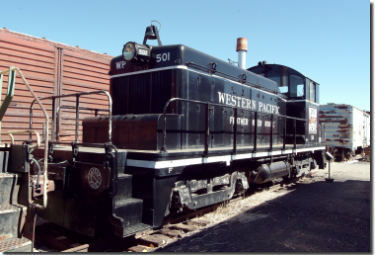 Western Pacific #501 preserved and on display at the Western Pacific Railroad Museum