| | |
| --- | --- |
| Listen to our 2017 Radio Spot about the Pumpkin Express... | |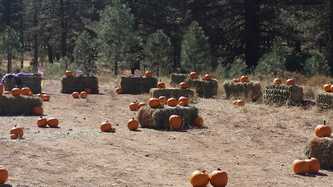 2016 Photo by - Leisa Wesch

Ride the train to get to the Pumpkin Patch (pumpkins extra price.)
The trains will take visitors to the Pumpkin Patch where they can select their pumpkins for purchase.

Museum will be open 10:00 AM to 9:45 PM on Pumpkin Patch Express Saturdays.

Museum will be open 10:00 AM to 6:30 PM on Pumpkin Patch Express Sundays.

NEW for 2017 - Super Spooky Saturday Night Trains !!!
Trains will depart hourly 1:00 to 5:00 PM on both Saturdays and Sundays.
On Saturday nights trains will also run between 7:30 and 9:00 PM.

There will be a free Haunted Rail Car created, staffed and hosted by the Portola Volunteer Fire Department, special Exhibits and Halloween Fun for all!

Admission will be $10 per car or $5 with 3 cans of food for the EPCAN Food Bank.
We collected 795 pounds of food for the Food Bank in our 2016 event.

View photos from the 2017 Pumpkin Patch Express opening day.

Watch a video of the Inaugural 2016 Pumpkin Patch Express arriving at the Pumpkin Patch.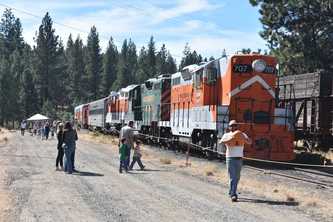 2016 Photo by - Greg Elems

Interactive map...get directions to the Pumpkin Patch: