This is the story of a unique railroad passenger car. Built to be a traveling office for business executives in 1917, the "Lear Jet" of its day, it would later serve an extraordinary mission gathering life-saving blood for those troops engaged in the conflict in Korea.

Named for a young Army medic who was killed in action in Korea, its ventures were followed in newspapers and radio broadcasts across the Western United States.

This page tells the story of how the Western Pacific Railroad Museum at Portola prepared for the rededication. Please see the Rededication Ceremony's web page for the day's events.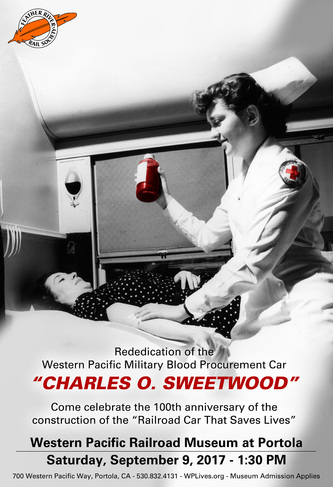 Learn more about the history and story of the Charles O. Sweetwood car.

Learn more about Nurse Pagan's, one of the original Red Cross nurses that staffed the car,
visit to the museum on July 8th, 2017.

Elko native Charles O. Sweetwood honored
in Portola train ceremony
Elko Daily Free Press
TONI R. MILANO September 8, 2017
PORTOLA-An Elkoan who was killed in action during the Korean War will be honored Saturday with the rededication of a military blood donor railroad car in Portola, California.

The ceremony at the Western Pacific Railroad Museum on Saturday celebrates the 100th anniversary of the construction of the "Railroad Car that Saves Lives" and the man who the car is named for, Charles O. Sweetwood.

A proclamation from the City of Elko will be read and the ceremony is to be attended by members of Sweetwood's family, Portola city officials, representatives from the Red Cross, and California state and federal lawmakers, according to organizer Patty Clawson.

Also scheduled to attend is the last surviving nurse that served on the car, 96 year-old Julia Rigutto Pagan.

Sweetwood lived in Elko and worked for the Western Pacific Railroad. One of his duties was to supervise a private car, the WP 106, originally built in 1917.

Sweetwood enlisted in the U.S. Army in 1947 and served in the Korean War as a medic rising to the rank of sergeant.

On Sept. 8, 1950, he was killed in action, eight days after his 21st birthday.

Sweetwood was noted as the first Nevadan to die in the Korean War and is buried in Elko, said Clawson, adding he also received the Purple Heart.

The Western Pacific turned the WP 106 into a military blood procurement car and named it in honor of Sweetwood.

The car was staffed with four Red Cross nurses and a Western Pacific porter. The first blood donors were Sweetwood's mother and brother.

The "Charles O. Sweetwood" is linked to northern Nevada history, Clawson said, as the car went through Reno and Elko during the three years it was in operation.

Formally decommissioned in 1953, the "Charles O. Sweetwood" collected more than 25,000 pints of blood going through Nevada, California, Colorado and Utah, traveling 28,488 miles. It was preserved in the Western Pacific's museum.

Plumas County News contributed to this article. (used with permission)