Jump to Convention Handouts & Presentations
Jump to Pre-convention material

2017 WP HISTORICAL CONVENTION
from Eugene Vicknair's report to the June 2017 Board Meeting
The 2017 Western Pacific Historical Convention was held in Reno, Nevada on May 5th-7th at Harrah's Reno Resort.

First off, we have received a LOT of positive feedback on this convention. Far more than I recall for any recent one aside from Sacramento five years ago and that was mostly verbal. This has been emails predominately.

I want to thank a LOT of people who made this possible, starting with our presenters. I have to give a special call out to Stephen Hayes who stepped into a cancelled show slot with a great presentation. Thanks to Roy and Susan Richey who opened their home in Virginia City for tours and it was fantastic. Also to the staff of NSRM and the V&T Railroad, the owners of the four layouts we toured and the volunteers who kept this moving: Fred Elenbaas, Leisa Wesch, David Epling, Kerry Cochran, RJ Meyers, Joanne Gerow, Charlie Spikes, David Elems and anyone I missed. Thanks to Greg Elems for being a great banquet speaker.

We had a lot of great vendors many of whom also donated to the fundraising raffle. Some even added more tables as the event went on. And I received a LOT of compliments on the Harrah's staff. We made some good friends with the folks at The Depot Brewery and may have a possible long term relationship there for special events. The ballpark dinner was well received (except for Steve Habeck getting sick) and we were able to get a lot of contacts via the RAL raffle.

We had 85 total registrations with only about 4 eventual no shows. Preliminary report on income was $12,486 with a direct cost of $9,258 and about another $900 of indirect costs (items purchased for convention that can be reused). The two raffles raised $670. Thank you to Gail McClure for her very generous donation of the framed Marc Desobeau print.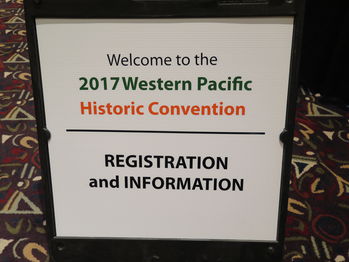 Welcome
Our 2017 Sponsors...

Portola Village Pharmacy
157 Commercial St,
Portola, CA 96122
530-832-4218

Cheeseburger Restaurants
Corporate Address: 73875 CA-70
Portola, CA 96122
530-832-6878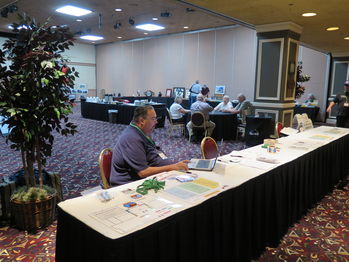 David Epling at Registration Desk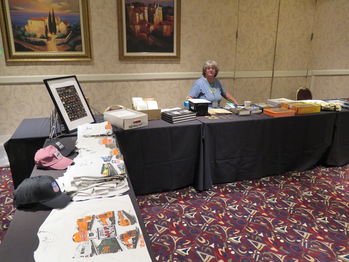 Leisa Wesch at the Company Store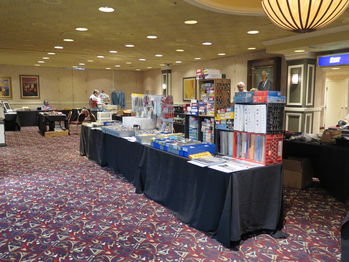 Vendor Displays Main Hall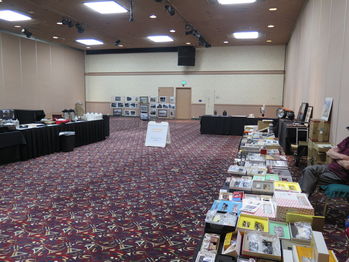 Steven Hayes Vendor Table and FRRS/WPRM historical displays, Photos and Archive items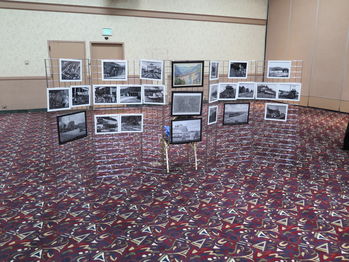 Archive Photo Display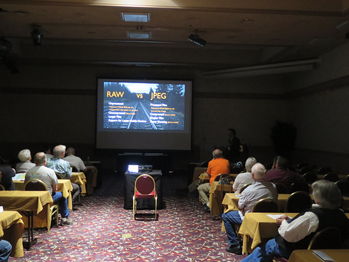 Michael Clawson Creative Railroad Photography presentation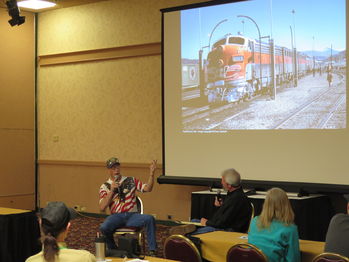 Working for the Western Pacific RR
Left: Michael Rush
Right: Tood Bruso host of ESPN radio "Pitlane"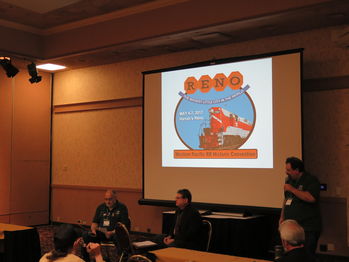 WPRM and the City of Portola
Left: Steve Habeck - President FRRS
Right: Robert Meacher, Portola City Manager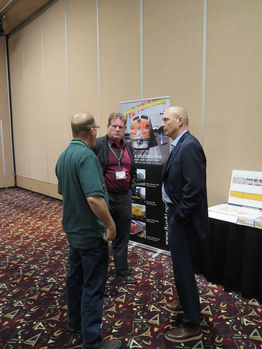 FRRS hosting a lunch buffet for the FRRS directors
and some local and regional political figures in a private room.
Left: Greg Elems, FRRS Vice President
Center: Robert Meacher, Portola City Manager
Right: Ray Breedlove, UP Director of Terminal Operations (DTO), Sparks, NV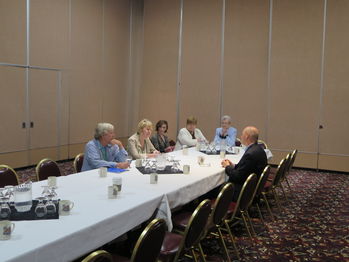 FRRS hosting a lunch buffet for the FRRS directors
and some local and regional political figures in a private room.
Phil Oels - Portola City Council
Patty Clawson - Big Fish Creations
Lauren Westmoreland - Staff Writer, Portola Reporter
Pat Morton - Portola Mayor Pro Tem
Ida Larrieu - Director of Williams House Museum
Ray Breedlove - Union Pacific Railroad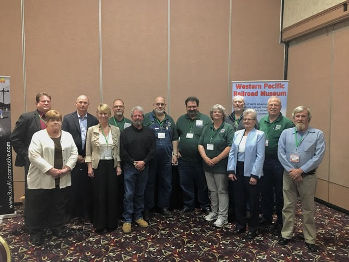 VIP Group Photo
Top row from left to right: Portola City Manager Robert Meacher, Director, Terminal Operations, Ray Breedlove, Feather River rail Society Vice President, Director Greg Elems, Feather River Rail Society, President, Director, Steve Habeck, Feather River Rail Society Secretary, Director Eugene Vicknair, Feather River rail Society Director Rick Gruninger, Feather River Rail Society Director Kerry Cochran.

Bottom Row left to right: Portola Mayor Pro Tem, Pat Morton, Marketing Manager Big Fish Creations, Patty Clawson, Reno-ESPN "Pitlane" Radio Host, Todd Bruso, Feather River Rail Society Director, Lisa Wesch, Ida Larrieu - representing Portola Mayor John Larrieu and Portola Councilmember Phil Oels.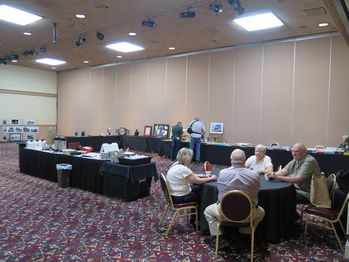 Display Room, Vendor Table, Meet and Greet table and Refreshments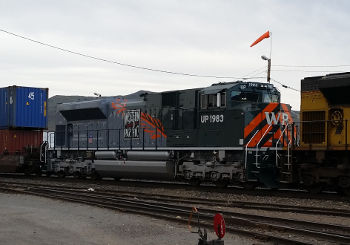 UP 1983 Arrives the day of the convention in Sparks yard.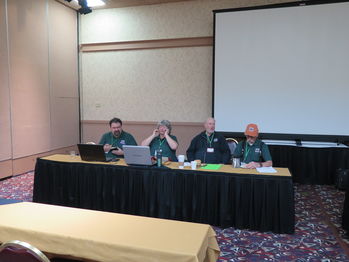 Getting ready for the Board of Directors meeting

Getting ready to eat, Closing Banquet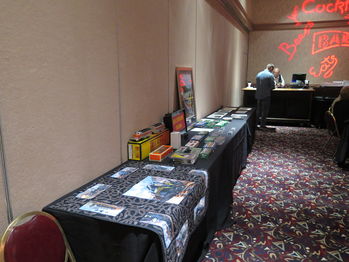 Banquet Raffle Prizes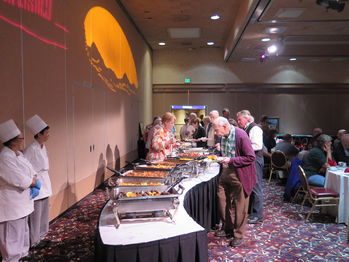 Time to eat
The dinner menu was
BBQ Pulled Pork
Rotisserie Chicken
Grilled Top Sirloin Steaks with Teriyaki Glaze
Mango Glazed Salmon Fillets
BBQ Baked Beans
Fresh Seasonal Vegetables
Roasted Red Potatoes
Fire Roasted Corn on the Cob
Mixed Greens with Assorted Dressings
Honey Butter
Corn Bread Muffins
Cole Slaw
Macaroni Salad
Tiramisu and assorted chocolate cakes/desserts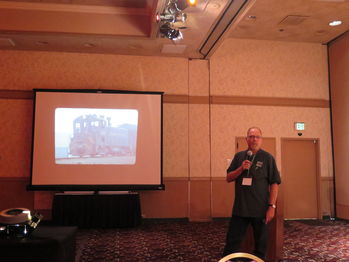 Banquet Speaker; Greg Elems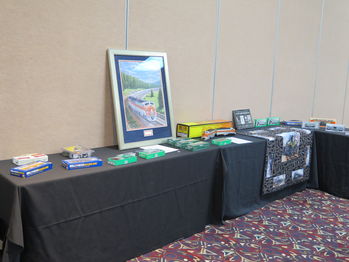 Raffle Prizes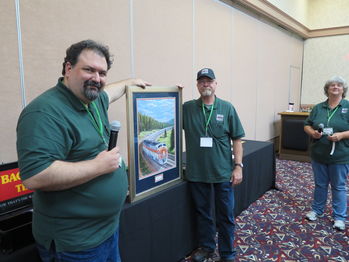 During the convention, a special raffle was held with the prize being this custom matted and framed print by artist Marc Desobeau, donated by Gail McClure.
It was won by Greg Elems, shown here at center during the banquet raffle draw with Convention Coordinator Eugene Vicknair on left and FRRS Director Leisa Wesch on right.