Following the Union Pacific/Western Pacific merger in 1982, UP repainted the 731 into their armor yellow and harbor mist gray paint scheme with red lettering in late January of 1985, and returned her to former WP lines in the Bay Area. The 731 didn't last long in its new identity however, as it was sold in August of 1985 to Iowa Interstate Railroad as their #306. WP 731/UP306 spent 10 years working the Iowa Interstate before being sold to the Feather River Rail Society in 1995 along with sister WP 725. WP 731 wears faded UP paint, as IAIS never repainted UP 306 into their attractive black paint scheme. She will be returned to Western Pacific silver and orange paint.

Notable events of 1955:
January 7 - Marian Anderson is the first African American singer to perform at the Metropolitan Opera in New York City.

January 19 - The game Scrabble debuts.

February 1 - Ray Kroc opens a McDonald's fast food restaurant (the company's 9th since it was founded in 1940), but Kroc later takes over the company and oversees its worldwide expansion. This represents the start of business "Franchising".

March 19 - KXTV of Stockton, California, signs on the air in the United States, being the 100th commercial television station in this country.

April 5 - Winston Churchill resigns as Prime Minister of the United Kingdom.

April 18 - Albert Einstein dies in New Jersey.

June 7 - The TV quiz program The $64,000 Question premieres on CBS-TV in the United States, with Hal March as the host.

June 11 - Le Mans disaster: eighty-three people are killed and at least 100 are injured after two race cars collide in the 1955 24 Hours of Le Mans.

June 16 - Lady and the Tramp, the Walt Disney company's 15th animated film, premieres in Chicago, Illinois

July 18 - The Disneyland Theme Park opens to the public in Anaheim, California.

August 27 - First edition of the Guinness Book of Records is published, in London.

September 30 - Actor James Dean is killed when his automobile collides with another car at a highway junction near Cholame, California. Dean is just 24 years old.

October 2 - Alfred Hitchcock Presents TV program debuts on the NBC-TV network in the United States.

October 3 - The Mickey Mouse Club TV program debuts on the ABC-TV network in the United States.

October 4 - The Brooklyn Dodgers finally win the World Series, defeating the New York Yankees 2-0 in Game 7 of the 1955 baseball playoff.

December 31 - General Motors Corporation becomes the first American corporation to make a profit of over one billion dollars in one year.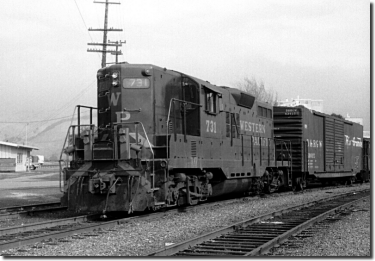 WP 731 rolls through Fremont, California with a "hot" 1 car local for the Ford Plant in nearby Milpitas.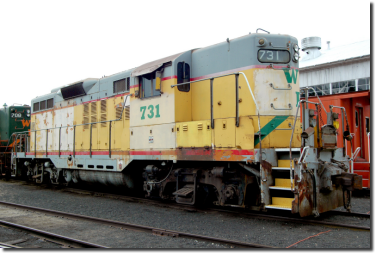 WP 725 in faded yellow paint of successor Union Pacific, in storage at the Western Pacific Railroad Museum in 2008.