While the Western Pacific rostered a relatively small fleet of GP9's at 8 units, neighboring road Southern Pacific rostered 340 of the rugged road switcher. SP 2873 was originally built in December 1956 as SP Subsidiary Texas & New Orleans 443.

In December 1983, both Southern Pacific and Atchison Topeka & Santa Fe railroad attempted a merger, creating the Santa Fe Southern Pacific Corporation as a holding company to manage the newly combined railroad. However, in July 1986, the Interstate Commerce Commission denied the merger due to opposition by the US Department of Justice. In June 1987, the ICC denied the appeal by the SFSP, thus ending merger proceedings.

Both railroads were confident enough that the merger would be approved that they began repainting locomotives into a new unified paint scheme, including the letters SP or SF and an adjacent empty space for the other two (as SPSF, the reverse order of the holding company). At the time of merger denial, approximately 306 ATSF locomotives, 4 ATSF cabooses, 10 ATSF slugs, 96 SP locomotives, and 1 SP caboose had been painted in this fashion. The two railroads made an effort to repaint locomotives in their standard paint schemes after the merger was denied. Santa Fe repainted all Kodachromes still on roster by 1990, though some engines were sold in this scheme. Southern Pacific's less numerous Kodachromes were repainted much more slowly. Our 2873 was repainted sometime in late 1985 or early 1986 making it one of the first 4 axle locomotives to be repainted in the new paint scheme. Nicknamed "Kodachromes" by railroad enthusiasts, the yellow and red scheme was chosen from ATSF's yellow secondary locomotive color and SP's red secondary locomotive color. Some engines received "SPSF" lettering, leading some enthusiasts to nickname the merger "Shouldn't Paint So Fast".

SP 2873 came to the Portola Railroad Museum (Western Pacific Railroad Museum) in 1992 after members found it in a scrap yard in Richmond, California. The FRRS purchased the locomotive and today the engine is used frequently at the WPRM as a yard switcher, in Caboose Train Service, and is a popular locomotive in the museums Run A Locomotive program where our visitors are invited to operate the 2873 under the guidance of a qualified instructor.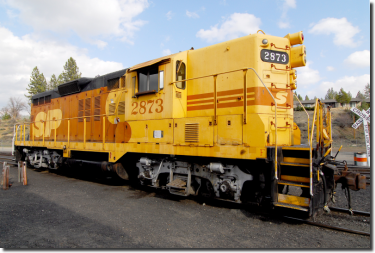 SP 2873 taking a short break at the Western Pacific Railroad Museum in Portola, California in 2009.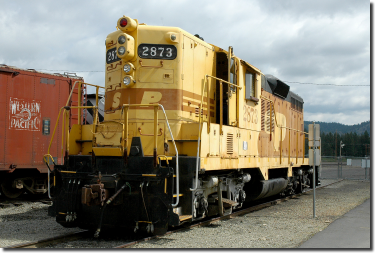 SP 2873 is waiting for you to take her for a spin! See our Run A Locomotive page for details.