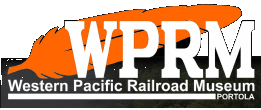 Sweetwood Rededication 2017 Video

The Western Pacific Railroad Museum at Portola hosted a celebration of the Sweetwood, Charles himself and the legacy of the car at the museum on September 9th.
The rededication ceremony was modeled after the ceremonies marking its entry into blood service held at Oakland and Elko in 1951. September 11, 2017 was the 100th anniversary of the car entering service.