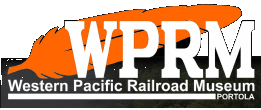 The Ultimate Snow Clearing Machine
The Rotary Snow Plow
SPMW 208
On August 23rd, 2017 WPRM was contacted by a TV production company based in the United Kingdom interested in producing a documentary series including pieces of American railroad equipment.

They traveled to California in September 2017 to produce a short segment about Rotary Snow Plows. The piece will discuss the history of the rotary plow, how it worked and why it was such a successful piece of machinery.

They were interested in learning more about the Southern Pacific Rotary MW208 at the Western Pacific Railroad Museum at Portola and already had some great footage of it in action. They were very interested is visiting the museum when they learned in was "stored operational" and with some TLC (and some funding), could be demonstrated for their film crew.

They came on the property on Saturday, September 16th for a day of living history.

For the film crew we provided an operating crew who demonstrated the equipment. Steve Habeck was the engineer for the snow plow that controlled the entire consist with Charlie Spikes as his fireman. The second unit, and the motive power, was SP 2873 (the SPMW 208 cannot move by itself, it needs a pusher engine) engineered by Loren Ross with David Elems as the fireman. In addition to the engine crews, we had a ground crew with Bil Jackson as conductor and brakeman Ed Powell. The operation ran for four hours.