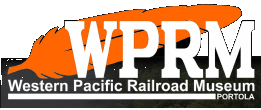 This California town rents trains to the public
John Bartell, KXTV

Portola is one of the only towns in California where you can learn operate a train.

In California, it's pretty easy to rent a car or even a moving van, but not many places let you rent a locomotive.
That is, unless you visit The Western Pacific Railroad Museum in Portola. The small town is one of the only places where you can learn operate a train.

Bil Jackson is the chief mechanical officer. He takes student train operators through the process. "It's not like starting your car. There are a lot of safety check lists that need to be done," Jackson said.

Normally it takes years of practice to operate a locomotive, but at the museum, they bend the rules. The "Run-A-Locomotive" program allows students to rent vintage diesel locomotives and operate them. Students move back and forth on a designated track under close supervision.

"We put you in the seat and you operate the train," Jackson said.

Locomotive rental fees range from $225 to $350. After completing your engineer experience, you will receive a certificate. After your lesson, check out the museum. Portola and the Western Pacific Railroad Museum is 48 miles north of Truckee in Plumas County.