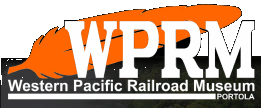 2019 Rotary Run
On Friday, March 22, 2019, the Western Pacific Railroad Museum operated our historic Southern Pacific Rotary Snowplow MW208. The FIRST RUN of the day was a live snowplowing run. This was rare opportunity to see an operating rotary snowplow up close and experience it plowing snow. This snowplow operates very infrequently.

Six places in the rotary cab were auctioned to the public on eBay, with the starting bid of $250. All six places were successfully filled. In addition to the six places in the rotary cab, four seats inside the cab of Southern Pacific GP9 2873 which powered the rotary run were offered at $150, four seats in the cupola of Denver and Rio Grande Western caboose which was the caboose for the rotary run were offered at $120 and ten spots to set up along the balloon track to photograph and film SP MW208 on its first plow run of the day were available for $50. Then after the snow flew, there was an opportunity for general admission to the museum starting at noon for $30.

A total of five runs with the consist were made. Our crew was Steve Habeck at the controls of the SPMW 208 which powered the rotary and controlled the 2873. Charlie Spikes controlled the rotary, Matt Elems was fireman in the SP 2873 and Bil "One-L" Jackson was conductor on the Rio Grande caboose. Rounding out our crew, Ethan Doty was the car attendant in the rotary, David Elems was our mechanical specialist and car attendant. Greg Elems worked with the video people.

John Bartell, from abc10 TV in Sacramento, was on site and videoed the event. John has produced two previous features at the museum that aired on abc10. He did an RAL piece in June 2017 and another piece on the SP Rotary in February 2018, but there was no snow that day! Both features are available on the society's website on the WPRM Photo & Video Gallery web page.

Between the runs, visitors got the chance to tour rotary MW208 with our docents and learn about its history and operation.