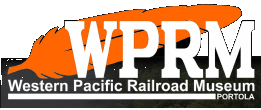 New Archive Car 2022
Kerry Cochran, Greg Elems, Phillip Schmierer, Eugene Vicknair

This boxcar was donated by the hospital in Chester, California to the museum. It was built and delivered to WP in December 1957 in the 56001-57000 series by Pacific Car and Foundry. The car was delivered in the mineral red, yellow and orange "Rides Like a Feather" scheme. It had the 8-foot 2-inch wide PC&F plug door and 50-ton Barber S-2 roller bearing trucks. In October and November 1972, it was sent back to PC&F for re-manufacture. It came back with new 10-foot 6-inch plug doors. It also had the new slogan-less white lettering in a darker brown paint.

The car's first road number was WP 56059. After the rebuild in 1972, it was renumbered as WP 61180. It probably derailed in Chester at Collins Pines on its first revenue run. WP then probably refused to take it back after it was on the ground. Collins Pines had no use for the boxcar, so they donated it to the hospital in Chester. It sat on the hospital grounds and was used for storage for almost 50 years. On June 23rd, it was loaded on a lowboy trailer by Bragg Crane and moved to the museum. Once at the museum, it was set on a set of trucks and rolled to its new spot on One rail. It will be used for archive storage after some repairs are made.

This car is different from others in our collection and is set up with shelves and power. The plan is to use it as an additional archive storage facility, equipping it with climate control and fire suppression.
Click on an image to open the slide show,
or use the links to photographs below for large images of the
New Archive Car 2022 gallery.
Page last updated: Mon Aug 29 09:54:04 PDT 2022

---
View mobile friendly version of this web page HERE.
---
Links to photographs in slide show:

Image number 1 -- Reporting marks now on both sides with the numbers. - 8/28/22 Greg Elems
Image number 2 -- Reporting marks now on both sides with the numbers. - 8/28/22 Greg Elems
Image number 3 -- Newly painted reporting marks on the shady north side applied on Monday 8/22/22. Numbers will get painted next time Greg gets to the museum. - Greg Elems
Image number 4 -- Recently fabricated coupler lifter in use transporting and installing a coupler - Phillip Schmierer 7/22/22
Image number 5 -- Close up view of recently fabricated coupler lifter in use transporting and installing a coupler - Phillip Schmierer 7/22/22
Image number 6 -- Missing coupler - Phillip Schmierer 7/22/22
Image number 7 -- Coupler being installed - Phillip Schmierer 7/22/22
Image number 8 -- Track jack is used during the installation of the coupler key which had just gotten stuck - Phillip Schmierer 7/22/22
Image number 9 -- David Elems working on the plug door. - 7/7/22 Greg Elems
Image number 10 -- Car sporting new (temporary) numbering so visitors can see which car this is.
People were curious about the number (since the car had two). Greg Elems could see the number under the brown paint, so he used them to get a quick rattle can paint job. At some point in time we'll get a new coat of brown on it and put vinyl numbers and lettering for a more finished look. The reason the number 61180 was chosen was it was rebuilt and the door changed in the rebuild that are currently on the car. - 7/7/22 Greg Elems
Image number 11 -- Greg Elems prepared to spray paint numbers on car. - 7/7/22 Greg Elems
Image number 12 -- Greg Elems was able to mask where the old numbers were under the brown paint. - 7/7/22 Greg Elems
Image number 13 -- WP 56059/WP 61180 on east 1 rail - 7/1/22 Kerry Cochran
Image number 14 -- David Elems is using the telehandler to spot the boxcar - 6/23/22 Greg Elems
Image number 15 -- Bragg Crane departing for Reno - 6/23/22 Greg Elems
Image number 16 -- On trucks again for the first time in about 50 years! - 6/23/22 Greg Elems
Image number 17 -- Arrived at WPRM - 6/23/22 Greg Elems
Image number 18 -- Transfer to lowboy trailer - 6/23/22 Greg Elems
Image number 19 -- Ready to lift - 6/23/22 Greg Elems
Image number 20 -- Rigging the boxcar - 6/23/22 Greg Elems
Image number 21 -- Insulated Boxcar at Chester Interior View - October 2021 Eugene Vicknair
Image number 22 -- Insulated Boxcar at Chester Exterior View - October 2021 Eugene Vicknair


Page last updated: Mon Aug 29 09:54:04 PDT 2022