705 Came to the Western Pacific Railroad Museum from Arizona where she spent several years working in the desert hauling freight for shortline "Arizona Central" after retirement from the Western Pacific. This explains the faded red paint. 705 was purchased by a group of FRRS members and brought "home" in 2005. Nicknamed "Mary Kay" due to it's pink (faded red) paint, the 705 will be restored as time and money allow. For the time being, WP 705 is stored at the museum on display. It has not been decided what paint scheme it will wear once mechanical restoration is completed.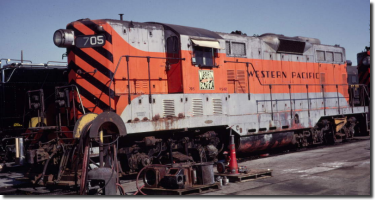 WP 705 in service during a layover at "Jeffrey Shops" in Sacramento, CA in the early 1970's.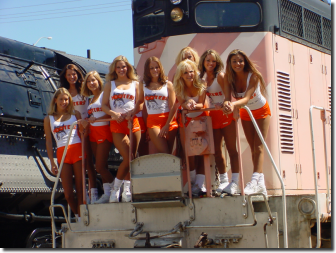 WP 705 spends a few moments in the limelight with a visit by the Cheyenne Wyoming "Hooters Girls" while in transit to its new home at the Western Pacific Railroad Museum in Portola, California.