---
Museum Open for 2017 Season!
Open Daily 10 - 5

---
Press Release about the June 3rd - 4th
Lost & Found Bike Event HERE!

---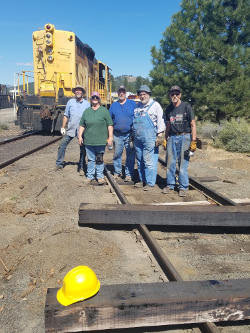 Track Work is underway at the museum...more information HERE!

---
Photos & Materials from 2017 Western Pacific Railroad Historical Convention
Reno NV - May 5~7 HERE!

---
~~ VOLUNTEERS NEEDED ~~
Work party for Lost & Found race and Membership Appreciation Day June 3rd and June 4th, 2017

---
Summer Weekend Train Rides start Memorial Day Weekend!

---
Next Board of Director's Meeting
June 3rd
at 1:00 at the museum

---
WP 165 - Special
LIGHT THE FIRE!
campaign

---
The dates for the 2017 RR Days event have been announced - August 25th - 27th

---
2017 Election Information HERE!

---
Support the FRRS when you shop at Amazon with Amazon Smile!
Start shopping HERE!

---