WPRRHS 2003 Convention Report and Gallery - Oakland, California
Story and photos by Mike Mucklin
Keeping with the tradition started with the very first Western Pacific Railroad Historical Society convention of holding it in a city or town that was on the route of the WP or one of its subsidiaries, the seventh annual historical and modeling convention was held April 11th and 12th at the Holiday Inn on Hegenberger Rd. in Oakland, California. This year's Convention Co-Chairs, Barbara Holmes and Vic Neves, made sure this was a convention that would not soon be forgotten. As FRRS President Ros McClure stated after the convention, "If you missed it, you missed a fantastic event that brings to mind, WP stands for Willing People!"
Thom Anderson, Steve and Norma Hayes, Bob and Lois Mersereau, Annie Neves, and Mike Mucklin all pitched in to execute various aspects of the event to make sure everything ran smoothly.
In a surprise announcement a few weeks prior to the event, the FRRS and Trains Unlimited Tours announced a California Zephyr "Domes Down the Valley" dome car excursion to cap off the WPRRHS 2003 Convention weekend. On a drizzly Saturday morning, convention guests were encouraged to tour the two CZ cars that would be used for the excursion, Silver Lariat and Silver Solarium, which were staged on a spur off of Middle Harbor Road in the Port of Oakland. Car owners Bert Hermey (Lariat) and Roy Wullich (Solarium) welcomed convention-goers aboard for walk-through tours of these beautiful cars that served CZ passengers for over 20 years before eventually entering charter service for their new owners.
The Friday and Saturday presentation schedules were booked solid and there was hardly an empty seat in the house for any of them. Presentations this year were provided by Dunston Fish, Thom Anderson, Dave Pires, Vic Neves, Don Olsen, Ernie Von Ibsch, Drew Jacksich, John McCormick, Bob Heywood, Tom Lawler, Tony Thompson, Seth Neumann, Dudley Westler, Evan Werkema, and a special Saturday evening movie presentation from Virgil Staff on WP's Eastern Division.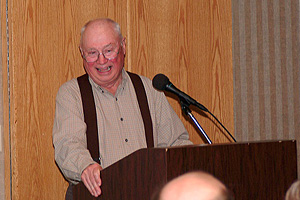 Of course, no WPRRHS convention would be complete without a special guest speaker there to entertain banquet guests and on Saturday evening Mr. Harold Meeker, who had been our keynote speaker at the 1999 convention in Fremont, made an unprecedented encore appearance. Mr. Meeker joined the Western Pacific as assistant to President Myron Christy in 1966 and he had so many great stories that they couldn't possibly fit into one evening. So we were fortunate that he accepted our invitation to appear a second time to pick up with his ever-popular "Tales from the Western Pacific" where he left off at the 1999 convention.
Thanks go to all of the presenters for the hard work that went into their outstanding clinics, presentations and shows.
The outstanding attendance of the 2003 convention was certainly evident. There were probably more FRRS board members that were able to make it this year than ever before and at least a dozen former WP employees were counted. Any more and we would have probably needed a bigger facility!
On Sunday, April 13, 2003 the CZ excursion, "Domes Down the Valley" ran from Oakland, California to Bakersfield and return using two ex-California Zephyr dome cars (Silver Lariat and Silver Solarium) coupled onto the rear of Amtrak's San Joaquin. Tickets were available to both convention attendees and to the general public but of the 80 tickets made available, it looked like most of them went to some very happy convention-goers.
The trip started out Sunday morning at a very soggy Jack London Square in Oakland, where problems with the Amtrak F59PHI (ironically, number 2003) assigned to our San Joaquin caused a slight delay. But after swapping out it out for P42DC No. 129, we were underway. Shortly after departure an amazing brunch was served and the weather cleared up by the time we got up around Martinez. Our push-mode trip down the central valley in cool and sometimes cloudy weather, much of it at well over 70 MPH, went by quickly before we caught up with the rain in Bakersfield before heading back to Oakland in darkness.
Thanks go to Chris Skow of Trains Unlimited Tours and CZ car owners Bert Hermey and Roy Wullich and their on-board staff for an unforgettable finale to the 2003 WPRRHS Convention.